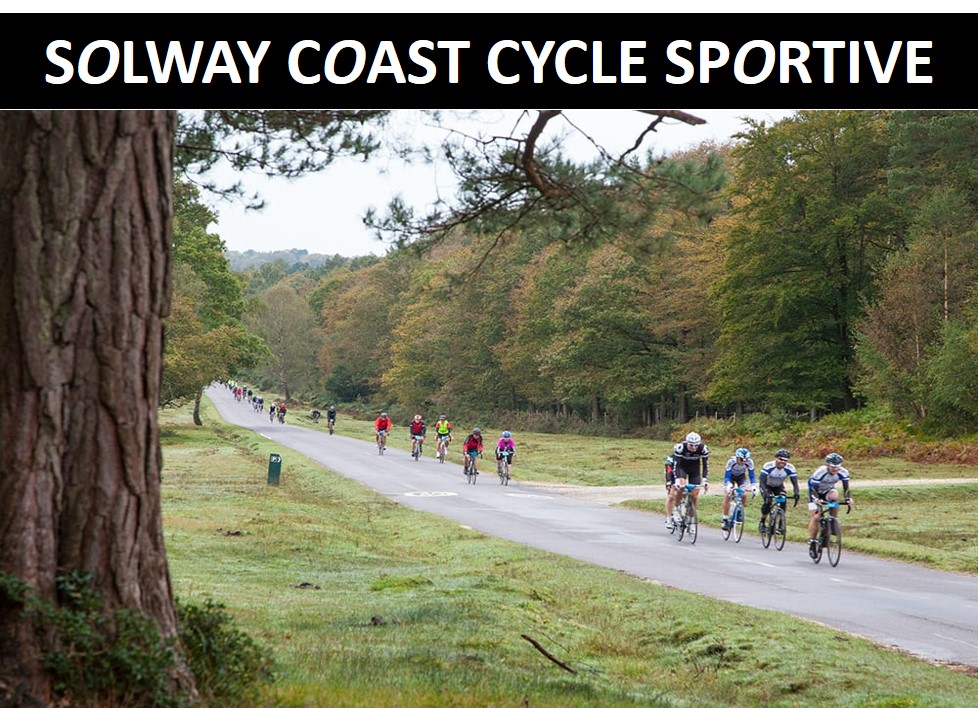 Date for the diary Sunday July 24th 2022
A brand new event for 2022. The aim is to make the routes accessible to all from beginner to the seasoned pro. breaking away from the the normal mountainous sportive to 3 fairly flat/mildly undulating routes.
Entry Fees
Route 1 £25.00, Route 2 £28.00 & Route 3 £31.00

Free Food at the Finish.
Feed Stations on routes 2 & 3
Mechanical and Medical support.
Chip Timing start and finish
Bespoke Finishers Medal
Entries Open on February 3rd
Route 1 – Distance 36.8 Miles
Route 1 map HERE – Cuesheet HERE
Route 2 – Distance 69.0 Miles
Route 2 map HERE – Cuesheet HERE
Route 3 – Distance 100.2 Miles
Route 3 map HERE – Cuesheet HERE (the section of the course from Abbeytown through Silloth and Allonby and back to Abbeytown is repeated twice).
What is a Cycle Sportive

Cyclosportives – commonly referred to as Sportives have become a firm fixture on the worldwide cycling calendar in recent years, offering both seasoned racers and newcomers to the sport a challenge that can be as gruelling or straight forward as they wish.
A cyclosportive, is a short to long distance, organised, mass-participation cycling event, typically held annually.
Many cyclists use sportives to challenge themselves in a personal battle against the distance and then ultimately, the clock.
Riders normally carry a number and the time they take to complete the course is recorded. There is usually an upper time limit within which the course must be completed. The already lengthy course will traditionally include climbs and difficult riding conditions, adding to the merit of the event.
The routes will usually be well sign-posted and/or marshalled, riders will be able to use feeding stations positioned at intervals along the route to replenish their food and drink supplies and mechanical and medical support may also be provided.
Cyclosportives are something like cycling's answer to the marathon. Long distance, sometimes epic mass participation challenges, open to all comers, cyclosportives are the event of choice for a new generation of road rider. Cyclosportives are performance rides that allow you to focus on your own goals, whether that be achieving a personal best time target or simply getting across that finish line! Our event offers a choice of 3 different distances, so you can get involved whatever your level.
Most, if not all, sportives use timing chips ensuring a healthy level of competitiveness is always present no matter what. Results are usually published in detail on the event website.
Sportives appeal to riders of any experience or fitness level. Some riders will be looking for an element of competition, perhaps by signing up with a bunch of mates for a burn up, or trying to be in the first or fastest group to finish. Others, who might find road racing a little strenuous or elitist, can ride at a steadier pace and still enjoy the benefits of a ride with marked directions, feed stops and mechanical support.
Will it be right for me? If you enjoy riding a bike, then almost certainly, yes! The beauty of a sportive is that you can make it the ride you want it to be. There's no competition with other riders, you can ride at your own pace, for your own goals and enjoyment.
Sportives are a great opportunity to meet other riders and ride with a group at your pace too.

Cyclosportives are not "true" races. They take place on open public roads, with large fields of riders (sometimes in the thousands) so different sets of rules and regulations apply than do for cycle racing.
In a cyclosportive, you are not competing against other riders, rather you are targeting your own personal goals.
For many riders, this is the whole appeal of cyclosportives; they free you from the competitive pressure, strict rules, regulations and rigid disciplines of pure racing and let you enjoy your riding for your own reasons.
Whatever your personal goals for your ride, remember that this is a public ride on open, public roads. You must ride within the rules of the road and obey the highway code at all times.
What do you get at Sportive events? Well generally speaking, you get free parking at an HQ with facilities, a well sign-posted route, with marshals and mechanical support, well-stocked feed stations along the route, nice scenery, quiet country roads, and some interesting hills to test yourself against. Most events are timed, though timing comes in many forms – from the simple stopwatch "time you in and out" variety, to high-tech electronic timing tags. Some events have motorcycle outriders, and these days as well as a route card, many also have the route available to download in advance for the gadget of your choice – everyone knows how much cyclists like gadgets!
There are usually photographers on the route too, typically lurking on the worst hills, to capture your smiling face as you slog your way up, and give you the opportunity to purchase a souvenir of the day afterwards.
Common sportive mistakes
Inadequate training – You wouldn't attempt to run a marathon without proper training so don't do it for a sportive. Be honest with yourself about your current fitness and skill level, select a suitable training plan and a realistic target event. hey are not just for racers.
Unrealistic or poor pacing
Your training will have taught you the pace and intensity that you are able to sustain on the bike. Heart rate and power provide an objective and reliable measure of intensity and either or a combination of both should be used to pace your sportive. Don't expect a miracle event day boost and, right from the start of the ride, stick to the heart rate or power zones you established in training
Fuelling errors
As with pacing, your fuelling strategy for pre, during and after long rides is something that you should have practiced, refined and nailed down in training.
Stick to your plan religiously, don't do anything different and, if you are unsure what food will be available at feed stations or haven't been able to try the products on offer in training, plan to be self-sufficient.
Pacing and fuelling are intrinsically linked so if you push harder than you are used to, your fuelling strategy will probably fail. This will leave you feeling bloated, unable to stomach food and potentially with gastric distress.
Hydration problems
Keeping well hydrated is not just essential on hot rides but also on the coldest winter day. Again, training is the time to determine your hydration needs and to experiment with which drink mixes and concentrations work best for you. Event day is not the time to try new products so, consider making up measured doses that you can simply add to the water supplied at feed stations
Mechanical failures
If you have trained really hard for a specific event, you don't want your bike to let you down on the big day. If you are mechanically gifted, give it a complete overhaul in the lead up to the event or, if you are not confident in your own skills, book it in with your local bike shop a couple of weeks before the sportive. Work through this checklist of the basics you should carry on every ride and ensure you know how to use them
Unwise clothing choices
It is always better to have too much spare clothing rather than too little, especially if your sportive takes in mountainous or upland roads. A sweltering day in the valleys can easily be cold up high and getting chilled on a long descent can easily end your ride. At the very least always carry a windproof gilet. Arm and leg/knee warmers are great on mixed days and a pair of full finger gloves and a windproof beanie for under your helmet can make a real difference when descending
Getting lost
Don't rely completely on the route being 100% correctly way-marked. Route markings are sometimes tampered with or removed and, when riding hard, it can be easy to miss a turn. Study the route beforehand, print out a map as back-up, make some key turn instructions to tape to your stem and, if available, download a .gpx file onto your GPS device or mobile phone. Make sure you attend and listen to the pre-event briefing, pay particular attention to any last minute route alterations and make sure you know what colour route markers you are following
Crashing
Some crashes simply can't be avoided but you can certainly lower your risk by riding appropriately to the conditions, ensuring your bike is well maintained and set-up correctly and by possessing good bike handling and group riding skills
Event day nerves
Some nerves aren't a bad thing but you need to ensure they don't impact your final preparations. The best way to do this is to try and make sure that all your kit, equipment and food is checked, laid out and methodically packed the night before the event. Work logically through the list and go to bed reassured that everything is packed and ready to go. Give yourself plenty of time in the morning and go through exactly the same routine as you would before a long training ride. Have confidence in the training you've done and avoid getting sucked into "who's done how many miles" conversations with other riders
Not making the start
Give yourself plenty of time if travelling on the morning of the event, set a couple of alarms or, if you are planning on staying over near to the event, book your accommodation plenty of time in advance. Avoid nervous start line fiddling with your bike, the last thing you need is a stripped seat-clamp bolt five minutes before the off and, if you are riding with friends who you know are slightly chaotic in their preparations, just look after yourself and roll off when you are ready
If it still doesn't go to plan
Take any positives, you may still have got a decent training ride in, learn from any mistakes you did make, honestly re-appraise your pre-event expectations and move on